Novo Nordisk: Company Likely To Continue Growth Trajectory (NYSE:NVO)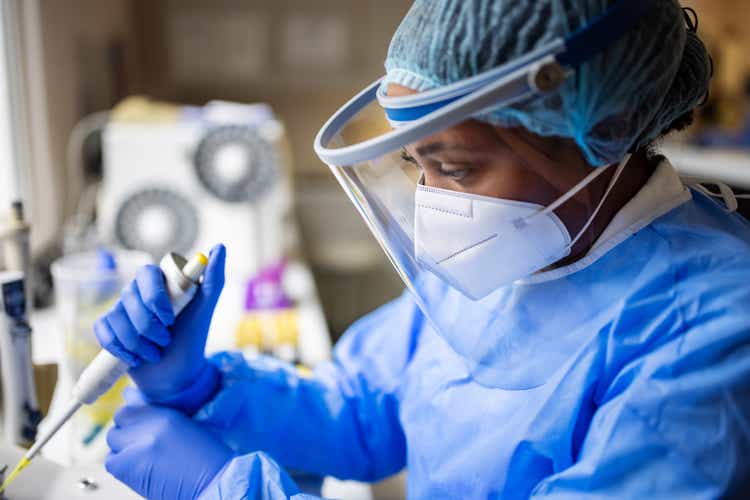 On Wednesday, February 2, 2022, Danish diabetes-focused pharmaceutical giant Novo Nordisk A/S (NVO) announced its fourth-quarter 2021 earnings results. These results were surprisingly strong, to say the least, with the company delivering very substantial year-over-year revenue growth and respectable bottom-line earnings. Novo Nordisk has long been one of my favorite pharmaceutical companies, largely due to the continually worsening diabetes epidemic that sadly does not get nearly enough attention from the media and government authorities. Unfortunately, there are emerging signs that the COVID-19 pandemic and the public's reaction to it has made the diabetes epidemic even worse. Novo Nordisk is quite well-positioned to profit from this unfortunate situation, a fact that is quite obvious by looking at the company's results.
As my long-time readers are likely well aware, it is my usual practice to share the highlights from a company's earnings report before delving into an analysis of its results. that is because these highlights provide a background for the remainder of the article as well as serve as a framework for the resultant analysis. Therefore, here are the highlights from Novo Nordisk's fourth-quarter 2021 earnings results:
Novo Nordisk reported total sales of DKK38.333 billion in the fourth quarter of 2021. This represents a 19.28% increase over the DKK32.138 billion that the company reported in the prior-year quarter.
The company reported an operating profit of DKK13.634 billion during the reporting period. This compares quite favorably to the DKK11.178 billion that the company reported in the year-ago quarter.
Novo Nordisk completed its acquisition of RNAi research and pharmaceutical manufacturer Dicerna Pharmaceuticals.
The company posted an operating margin of 35.6% in the reporting period. This represents an improvement over the 34.8% operating margin that the company achieved last year.
Novo Nordisk reported a net profit of DKK10.892 billion in the fourth quarter of 2021. This represents a 16.89% increase over the DKK9.318 billion that the company reported in the fourth quarter of 2020.
It seems quite certain that the first thing that anyone reviewing the highlights is likely to notice is that Novo Nordisk saw a very substantial year-over-year increase in revenues. As I have mentioned before though, this can sometimes be misleading. This is because Novo Nordisk is an international company that receives most of its sales from outside of its home country of Denmark. As a result, currency fluctuations tend to have a rather significant impact on the company's revenues. In this case, though, it makes little difference. We can see this by looking at the company's sales in terms of the currencies that the company's customers actually paid with. In this case, the company's sales increased by 14% year-over-year as opposed to the 19.27% increase that we saw when measured in Danish kroner. Thus, the increase that we see here was completely organic.
This organic growth was primarily driven by a strong performance from the company's diabetes-care and obesity-care product lines, which are by far the company's largest lines of business. This business unit saw total revenues increase by 13% year-over-year. This was primarily due to Ozempic and Rybelsus being prescribed more by doctors around the world. These are the company's two flagship GLP-1 analogs for the care of type-2 diabetes and they helped Novo Nordisk increase its global market share of the diabetes pharmaceutical market to 30.1%:
The company managed to achieve this despite the fact that its share of the global insulin market has been declining, which very much shows how strong the uptake of these products has been. This is something that should prove to be a net positive for investors since it is a very clear sign that doctors are increasingly trusting and relying on these products for the care of their diabetic patients so they may begin relying on them more often. That scenario would naturally result in further sales growth for the company and by extension more profits for investors.
As stated in the introduction, the sales of obesity and diabetes-care products are by far the company's largest source of revenue. Of these two product types, diabetes-care products are more important as they accounted for 80% of the company's 2021 revenue: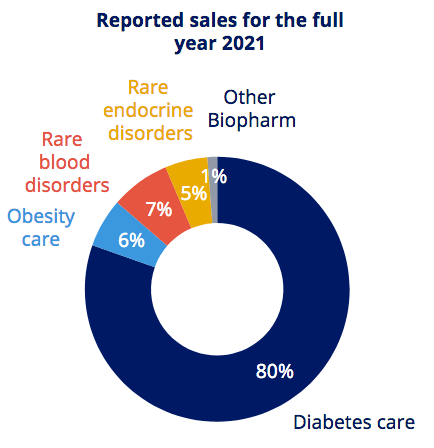 In past articles, I have noted that diabetes and obesity are some of the biggest problems facing the medical community today. There are hundreds of millions of people suffering from both conditions, only a small fraction of which are currently receiving appropriate care:
As we can clearly see, there is a huge opportunity simply by increasing the percentage of people that are currently being treated for the conditions that they already have. There are signs that both conditions are likely to see a growing number of people suffering from them. As we can see in the chart above, there are currently far more obese people worldwide than people that suffer from diabetes. According to the Centers for Disease Control, overweight and especially obese people are much more likely to contract type-2 diabetes than people of a healthy weight. Thus, it seems likely that at least some of these obese people will contract diabetes at some point, especially those that make no effort to address their condition as they age (as age is also a factor in the development of diabetes, as noted on the linked site).
In the introduction, I noted that the COVID-19 pandemic may have made both the obesity and diabetes epidemics worse. One of the actions taken by governments all over the world in response to the pandemic was to essentially force people to remain at home and avoid unnecessary travel. Unfortunately, it is significantly more difficult to remain active and get needed exercise at home than it is when someone is able to get outside and move around. This is particularly true in densely-populated areas such as cities where people typically lack large yards or other open areas. The American Psychological Association indeed stated that this was the case as more than 61% of Americans reported undesired weight changes since the start of the COVID-19 pandemic. Admittedly, there were some people that stated that they lost weight, but the majority reported weight gains. These people now may be at higher risk of contracting type-2 diabetes if they do not manage to reverse the weight gain but the odds are that many of them will not. According to the Centers for Disease Control,
A quarter of U.S. adults aren't active enough to protect their health, according to a CDC study conducted from 2017-2020. The agency released a map on Thursday showing that Puerto Rico and states in the South had the highest prevalence of inactivity, followed by the Midwest, Northeast, and the West. Colorado, Utah, Washington, and Vermont were the most-active states.
Thus, we can see that many people were sedentary well before the pandemic and the lockdowns. It seems likely that the sort of person that will put in the effort needed to reverse their weight gain would have found a way to exercise at home. Therefore, it seems likely that for many of these people, the weight gain is going to be permanent, which puts them at higher risk of developing type-2 diabetes. This is a very unfortunate thing from a humanitarian perspective but it does point to further growth opportunities for Novo Nordisk.
Admittedly, this analysis only shows that the lockdowns may have increased diabetes risk in Americans and not in people all around the world. However, North America is Novo Nordisk's largest market. About 48% of the company's sales are in North America, primarily the United States. While this is by far the largest single source of revenue, it is down from a few years ago: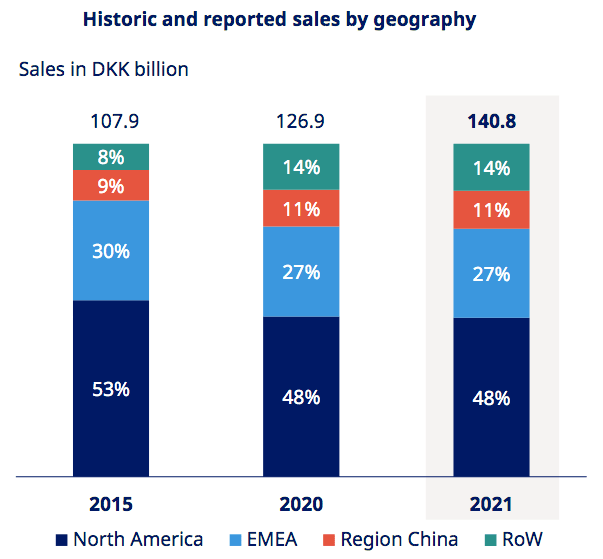 This could be a sign that the prevalence of diabetes in other nations is increasing more rapidly than in the United States. This is reinforced by the fact that Novo Nordisk's sales in the United States only increased by 13% in 2021 but increased by 14% in the rest of the world:
Thus, it does appear that the prevalence of diabetes in the rest of the world may be increasing more rapidly than in the United States. It is clearly increasing everywhere though and both the rising obesity rate and the aging of the population in the developed world indicate that this will likely be the case for quite some time. This provides for a long-term continuation of Novo Nordisk's growth story that we clearly see in these results.
In conclusion, Novo Nordisk posted very stellar results during the most recent quarter. The company has long been a growth engine due to the diabetes epidemic and we clearly see that here. It, unfortunately, appears likely that this debilitating condition will be plaguing society for quite some time, which will result in growth for the company and almost certainly profits for investors.