AirBnB regs may impact housing markets. But what about housing local workers? | Town & County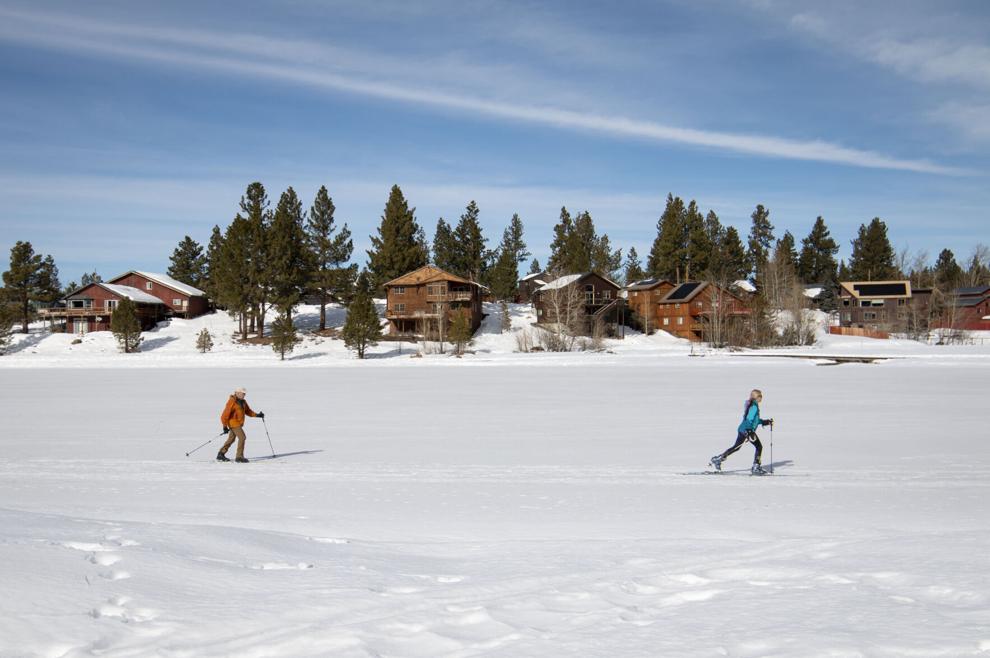 TRUCKEE, CALIFORNIA — Looking to buy property and build a house, Harry Richmond found some three or so hours away from San Francisco where he lives and works.
But, just as the 33-year-old pharmaceutical industry employee was getting ready to buy in Truckee, a town of roughly 16,500 just a few miles north of Lake Tahoe, the town temporarily banned new short-term rentals.
"That completely changed everything and pulled the rug out from under my feet," Richmond said.
But, for Truckee town council member Dave Polivy, deterring such a sale is "a win."
"If people can't have their second home or third home pay for itself, are they going to rethink that purchase?" he said. If "our local workforce now has a better opportunity to get into the market, that shows that pressure is working from the lens of trying to solve our housing problems."
When the COVID-19 pandemic hit, sending coastal urbanites flocking to already-tight housing markets across the Mountain West, resort communities unleashed a flurry of new regulations and taxes aimed at curbing or raising more money from short-term rentals.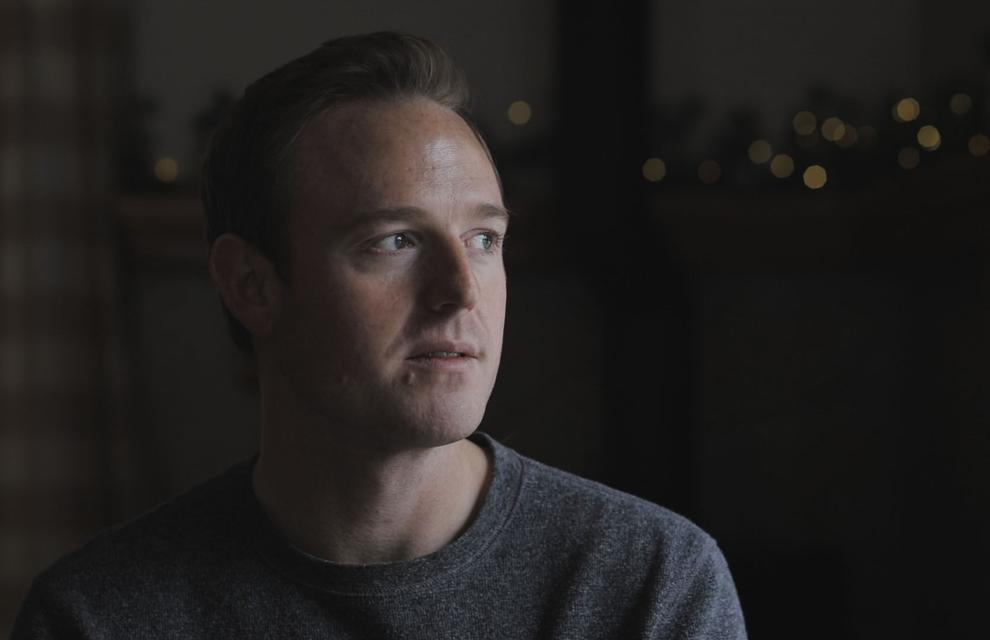 In 2021, Colorado communities along the I-70 corridor like Summit County instituted short-term rental moratoriums, and later passed new regulations for Airbnbs, VRBOs, and other short-term rentals. Breckenridge capped the number of short-term rentals allowed in town.
The Truckee Town Council took a similar tack, passing a moratorium, and more recently voting in favor of caps of its own.
But, so far, there's little evidence showing that regulating short-term rentals has a significant impact on freeing up housing for local workers.
When Polivy asks officials in other communities whether their policies are having an effect, he said he gets a common answer: "We don't know yet."
"What we haven't really done and what no community, at least in my opinion, has been very successful at proving is: Do short-term rental regulations, and additional short-term rental regulations, actually change the dynamic in your housing market," he said.
Communities like Durango and Crested Butte, Colorado, which have capped short-term rentals for years, haven't officially tracked the impact.
And the desire for housing in resort communities might be so high that cutting out buyers like Richmond might not put much of a dent in demand.
For every person who wants to buy a second home and needs to rent it out short-term to pay the mortgage, real estate agents said there's another buyer waiting — one who doesn't need the extra cash.
"It's just empty when they're not there," Truckee-area Realtor Christy Morrison said.
Truckee and neighboring Placer County are relatively new to the business of regulating short-term rentals. A few years back, each passed an initial set of short-term rental regulations aimed at curbing nuisances like noise and garbage that renters leave unsecured.
More recently, elected officials in both jurisdictions implemented a moratorium on new short-term rental permits. The idea was to take time and develop policies aimed at preserving housing stock for local workers like Truckee-area wedding photographer Holly Shankland.
Shankland makes a good income and has been trying to buy a house for years.
But she keeps getting outbid.
"I would say a lot of the houses I got outbid on are now on Airbnb," Shankland said. "I think there's a lot of people that just see this as a cash cow."
Ultimately, both Truckee and Placer County settled on capping short-term rentals, though Truckee has yet to approve its formal ordinance.
Placer's decision to allow roughly 1,000 more units than currently permitted — hoping to capture the number of short-term rentals that weren't previously required to be permitted, or operating illegally — rankled residents who didn't want to see any more short-term rentals in their towns.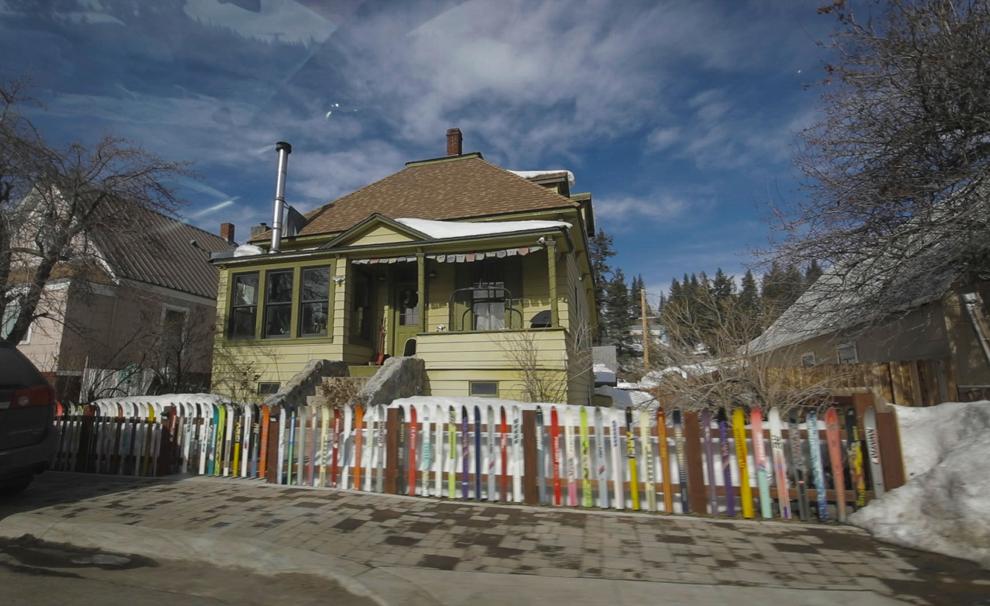 Real estate professionals, meanwhile, opposed the move, arguing that limiting rentals would impact tourism, which underpins the area's economy.
Caught in the crackdown, Richmond doesn't see himself as a second home owner.
For him, the three-bedroom, two-bath A-frame he was planning to build wouldn't have been a second home.
He doesn't own real estate in San Francisco and doesn't think he can afford it. The Truckee place would have been a "primary residence," he said, one that he planned to move into when he didn't have to spend any more time in the Bay Area. Richmond wanted to visit on weekends in the meantime.
"The price of real estate has gotten so expensive, and so out of reach. It increases in value faster than your income can catch up to it," he said. "It was just about getting in and being able to afford something now in a place that I knew I wanted to be in 10 years."
He planned to subsidize his mortgage by renting the place out in the short term.
But the moratorium called his ability to get a short-term rental permit into question, increasing the risk.
"I was just getting to a point where I needed to pull the trigger on something," Richmond said. "But after that happened, it just didn't make sense financially."
"I've had quite a few Realtors and people in the real estate industry come and say, 'Yeah, people aren't buying,' " Polivy said. "My next question to that realtor in that conversation is always, 'Great. Has the price come down at all?' And their answer is 'Not yet.' "
"Yes, that's a thing," said Morrison, the Truckee Realtor. "If I looked in our database, I would say 20% to 30% of people now are not going to buy."
Those people, she said, are people like Richmond who can no longer plan on short-term rental income to offset mortgage payments.
But Morrison said the crackdown hasn't had a noticeable impact on prices.
"We've already seen, since the first of January, a 5% to 6% appreciation rate," Morrison said, adding that newly listed properties still typically get three to 10 offers.
"The town council hasn't slowed the appreciation rate at all," she said.
Part of that, the real estate agent said, is because there's still plenty of demand for second homes.
"There's a lot of money still in our market," Morrison said.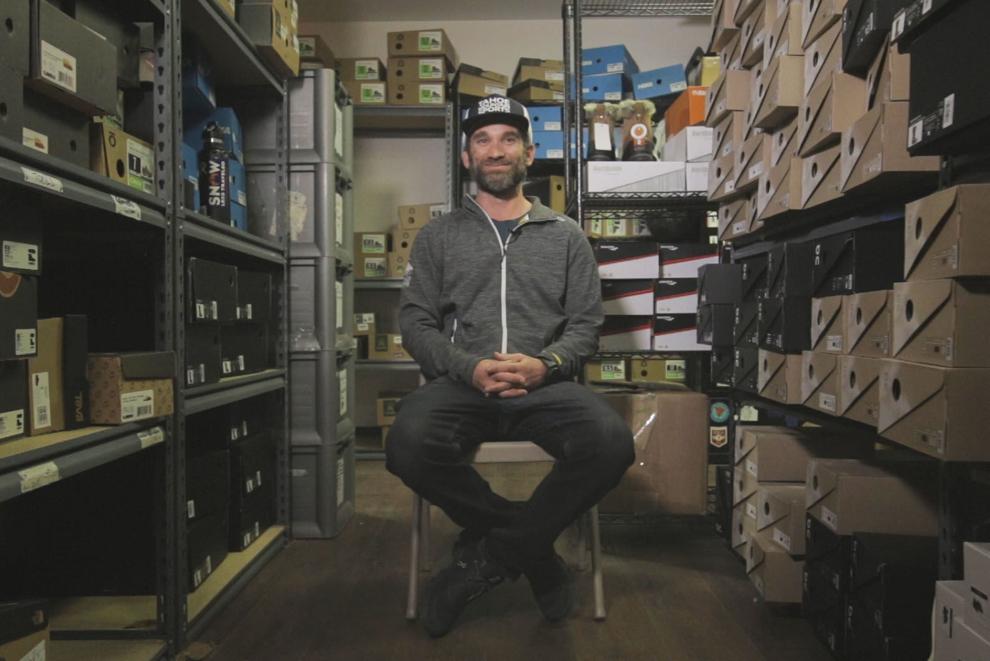 People still want a place to come up, go skiing, live in Tahoe and get out of the Bay Area, she said.
But Polivy said the short-term rental moratorium doesn't mean you can't buy a house — or vacation in it.
"We're saying you can't buy your house and short-term rent it," he said.
As an alternative, Polivy pointed to Truckee's incentive programs aimed at encouraging homeowners to rent to local workers — for as little as three months.
Read more about that next week in the second installment of this series.
What does a cap look like?
In Crested Butte, people reacted similarly when the town council implemented a short-term rental moratorium of its own.
"I must have gotten 30 or 40 calls from prospective buyers who said, 'Hey, I was depending on this for income. I want to retire there. I want to live there full time but I was depending on this income to buy the house,' " Community Development Director Troy Russ said.
Contracts, Russ said, were canceled. Realtors said they'd heard of that happening but couldn't put numbers to it.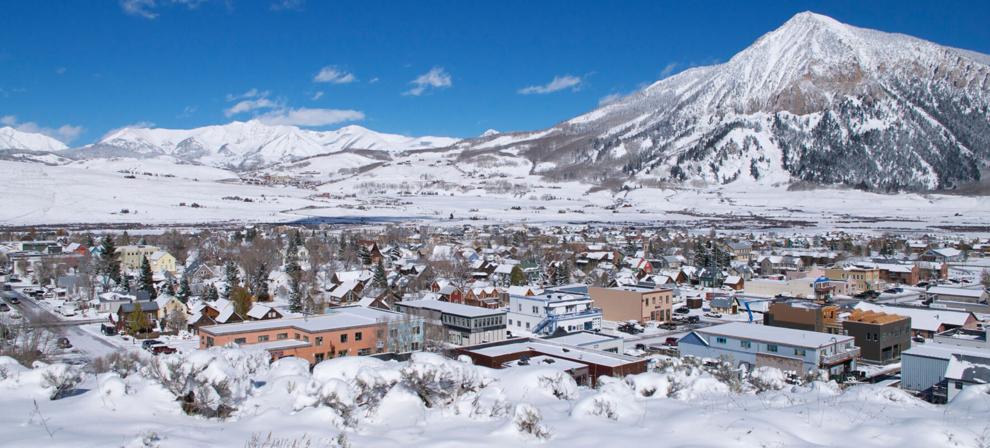 But Crested Butte's short-term rental moratorium was different from Truckee's.
The small Colorado town of about 1,800 people had been capping the number of rentals allowed for years.
Like Durango, a college town of roughly 19,000 in southwestern Colorado, Crested Butte set zone-specific standards in 2017, allowing 30% of homes in zones where the town green-lit unlimited short-term rental permits to get one. That pencils to 212 permits town-wide.
Durango, meanwhile, has policies that cap the number of permits citywide to roughly 2% of the housing stock. That pencils to 125 permits with 36 people on the waitlist in zones where short- term rentals are allowed. Some developments outside those zones have development-specific caps.
Jackson, which is roughly half the size of Durango, doesn't cap the number of permits it offers but limits short-term rentals to specific resort zones.
It has just over 600 licenses published on its website.
Planning officials in Durango and Crested Butte were confident that the number of short-term rentals operating within city limits — outside of their borders was another story — was close to the caps. That's because they enforce their policies aggressively.
Crested Butte, for example, publishes the names and phone numbers of everyone with a short- term rental license.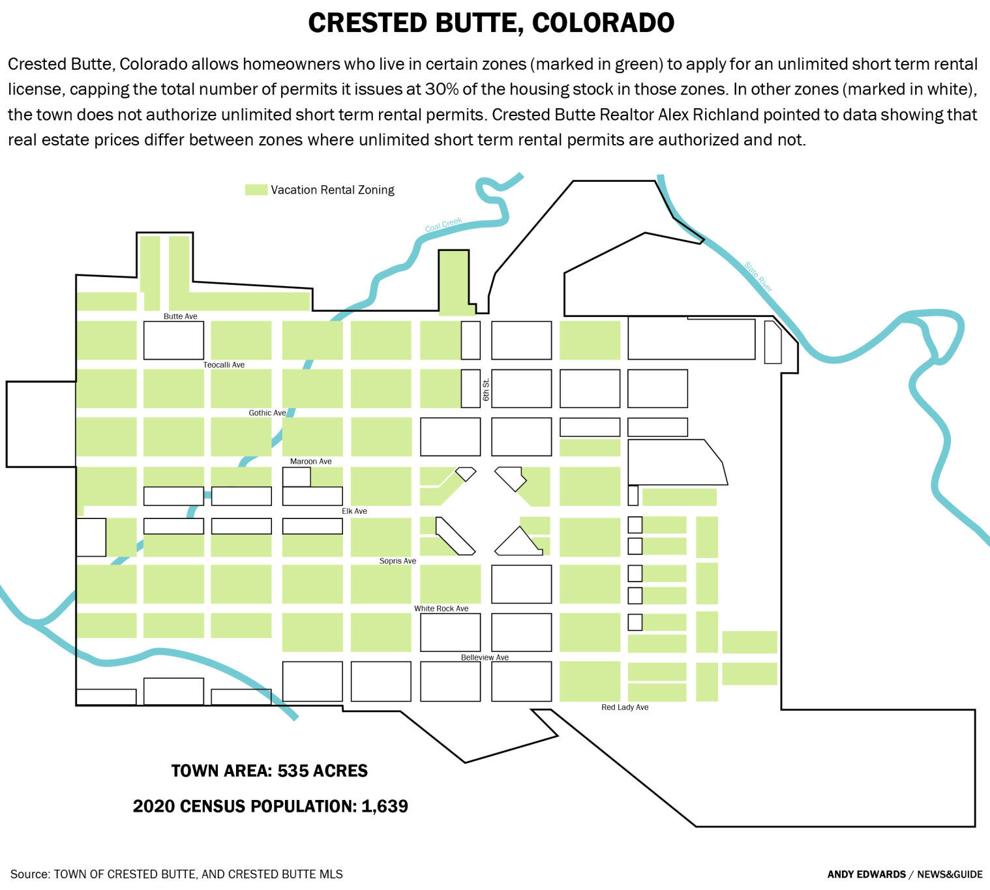 It also spends roughly $160,000 a year on enforcement. The town has one staff person who dedicates 75% of their time to enforcement. The $160,000 pays their salary, an outside company that flags possible violations, and local law enforcement.
All of that work is funded by a $750 annual short-term rental license renewal fee.
The town of Jackson charges $107 per unit, requiring a permit and license from the city.
But whether short term rental caps in Crested Butte or Durango are doing much to preserve housing for local workers is hard to say.
Russ compared Crested Butte to Mount Crested Butte, the town at the base of the Vail-owned ski hill.
The smaller resort-adjacent town has over 600 short-term rentals, Russ said.
The town of Crested Butte, which is larger, has 195 active permits, in part because of attrition that's happened since the moratorium went into place. Homeowners with existing permits who sell their homes aren't able to transfer licenses. And new permits are on hold.
"I would assume it's helped," Russ said, eyeing the discrepancy between the two towns.
But he couldn't say for sure whether the policy had freed things up for local workers.
Plus, the town hasn't studied it.
In Durango, it's a similar story.
Scott Shine, a planner with the city, said the number of short-term rentals in Durango is sticking close to the cap because of the city's enforcement efforts.
But there are some people skirting the regulations, offering what he called "mid-term stays" or "executive stays."
That's when homeowners rent their place on Airbnb for VRBO for a month or more to visitors, rather than long term to locals. Durango defines a short-term rental as a month or less, and those are the types of rentals that fall under its current regulations.
"Mid-term stays" have gotten much more popular during the pandemic and the city is still discussing how to handle them, Shine said.
But he felt the regulations on stays under a month — those the city deems "short term" — had been effective, at least anecdotally.
"Just by the number of calls we have gotten in the past about people who would be interested in doing vacation rentals," Shine said, "we can confidently say the program has prevented a large portion of housing units in Durango from being converted to short-term rentals."
But he didn't have the data to say whether the caps have improved local workers' housing lot.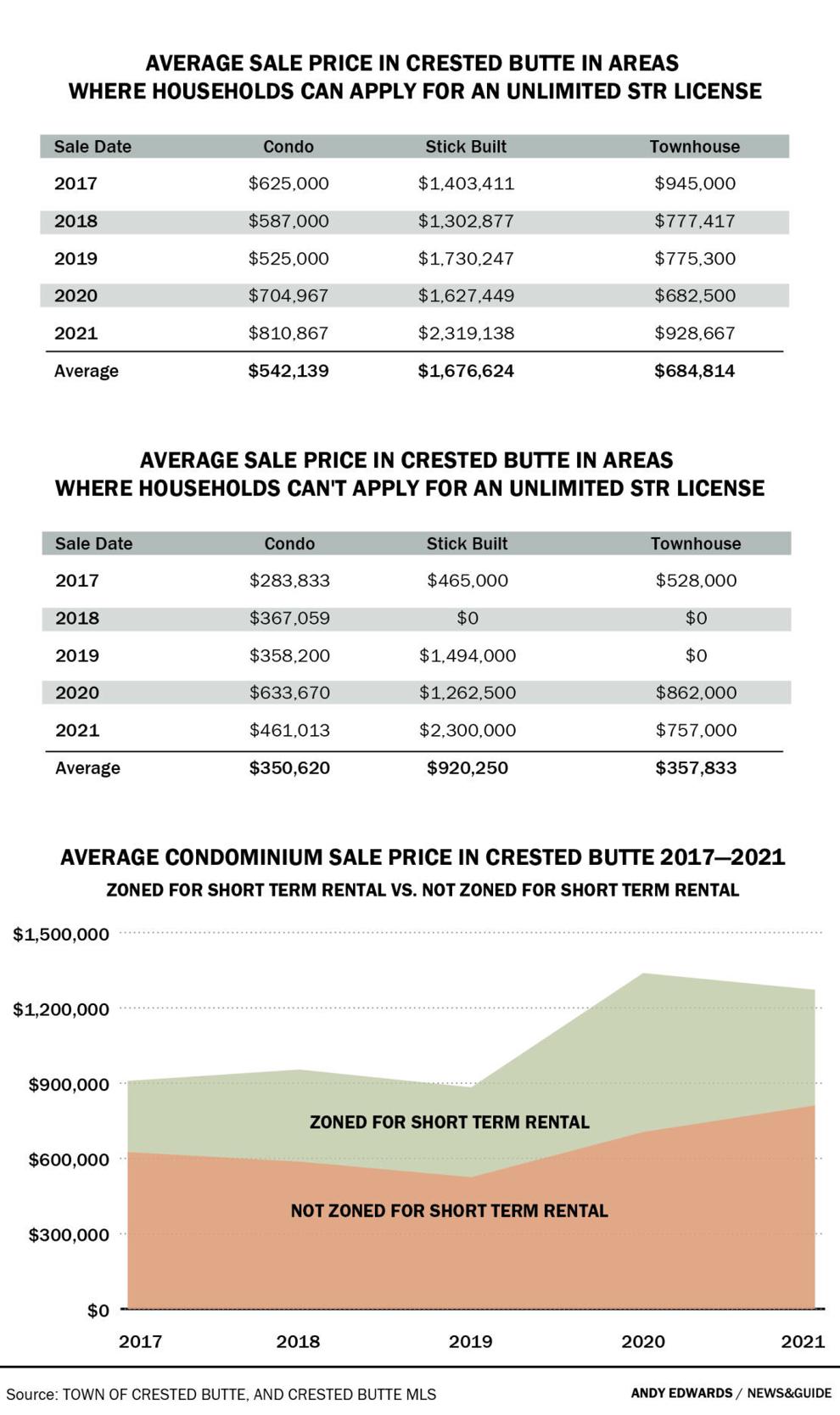 "It just prevented it from being worse," Shine said.
That's why short-term rental regulations are only a part of the city's affordable housing programs, which include incentivizing deed-restricted housing development, and services for people experiencing homelessness. Crested Butte is likewise trying to build housing.
But, in Crested Butte, real estate agents said prices haven't stopped rising since 2017, when the zone-specific caps went into place.
"There's no way you can control price points and supply and demand forces just like you can't control gravity," said Crested Butte Realtor Chris Kopf.
From 2017 to 2021, the dollar volume of single family homes sold in the town of Crested Butte, which has the most expensive real estate in the area, doubled from roughly $31 million to about $64 million. At the same time, prices climbed from an average of $1.3 million to $2.3 million.
Different zones, different prices
Alex Richland, another Crested Butte Realtor, also hasn't seen a market-wide impact on prices.
But she thought the cap had affected prices for at least some properties in the city.
"Prior to the moratorium, you could clearly see a difference in property values in the zones where you could short-term rent and where you couldn't short-term rent," she said.
Richland provided the News&Guide with data on every sale of residential property within Crested Butte town limits since 2017, when the town started capping short-term rental permits.
Zones where unlimited short term rental permits are allowed occupy a larger swath of Crested Butte than zones where they are not. Fewer homes were also sold in the zones where short term renting is not allowed. And there could be other underlying factors that confound the data, like different character of the neighborhoods. Zones where short term renting is not allowed, for example, are more condominium-oriented than zones where short-term renting is permitted.
But the data does show a difference: Since 2017, when the ordinance went into place, condominium prices in the zones where short-term renting generally isn't allowed are an order of magnitude lower than prices in the zones where they are.
Across all five years, the average price for a condo in short-term-rental-free zones was $350,629.
In zones where short-term renting was allowed, the price was 35% higher: $542,139.
The same thing appears to have happened for single family homes and townhomes, though there were fewer sales of each in the short term rental-free zones to evaluate. But there's no data available showing how many local workers have been able to purchase those homes.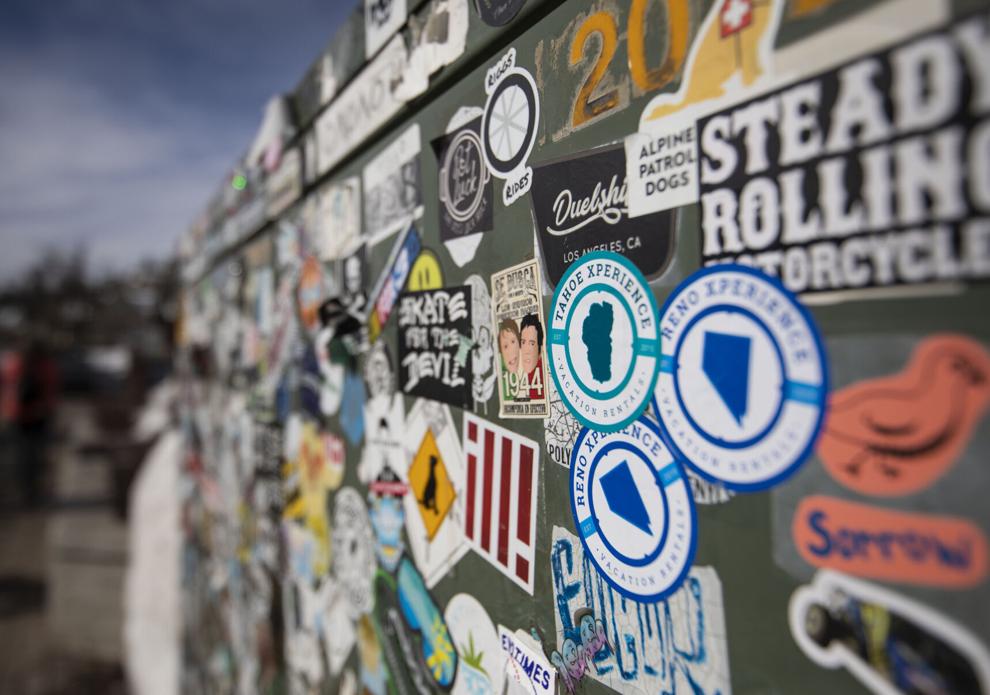 Richland said she hasn't seen much anecdotal evidence that that's happening.
"The property's cheaper but it's still not cheap," Richland said. "So have I seen a lot of locals be able to buy property in the town of Crested Butte? No, because it's still very expensive."
But she said the caps have had an effect of some kind.
"A lot of our investors, second homeowners, don't want to buy into zones where you can't get that unlimited license," she said.
And Richland thought the caps that existed before the moratorium were a "good balance" in part because they rotated frequently.
"People were not having to wait forever to be able to get their vacation rental license," she said.
In Crested Butte, officials are planning to study the short-term rental issue more, trying to understand in part whether the regulations have impacted housing markets for locals. Because the town is small, Russ said they'll do that with a door-to-door survey this year.
"We didn't study it beforehand," he said. "But that's what we're studying now."
Elena Bigart is a social scientist and research associate with the University of Montana's Institute for Tourism and Recreation.
She studied short-term rentals in Montana in 2021 and said it's clear that there's an anecdotal link between short term renting and local housing markets. But Bigart feels there's not been enough research to say how regulating short-term rentals can open up or preserve housing for local workers.
"In order to say, okay, this policy results in this, this and this, we obviously need a lot more data and more rigorous and specific research," Bigart said.
In the meantime, Truckee-area locals like the wedding photographer Holly Shankland are still struggling to find a permanent place to live.
People like Richmond, who wanted to nail down a place to eventually live and retire in Truckee, are looking elsewhere.
And officials like Polivy are waiting to see how new regulations impact the market.
This article has been updated to clarify that Richmond was looking to buy property and build a home. — Eds.